You know what is a whole lot better then working next Monday? Joining us at Professor Thoms (13th and 2nd ave NYC) for 12+ hours of baseball, that's what! There will be plenty of free drinks, giveaways and all sorts of fun going on throughout the entire day. Oh and we even are screening an award winning film, classy!

Details:
Upstairs private loft area of Professor Thoms, say you are there for the MLB opening day party. All the games will be shown. Can't skip out of work early? No problem! We will be there from 1pm to 1am for 12 hours of non stop baseball and good times, so drop by any time.
25+ Real time drink specials* that unlock as you are watching the game such as: (A HR is hit and you get $2 off a beer, A HR is hit off of Verlander: $2 shott. Grand-slam is hit: Free beer. A manager is tossed from a game: free beer. A no hitter is thrown: entire party drinks for free until the keg is dry.) see the entire list on Gate F starting Sunday. *subject to change
Giveaways throughout the day by a special guest that include: Yankees vs Red Sox Tickets, Mets Tickets, Gift Certificates, T-shirts, other Swag and whatever else we dig up in the next 3 days.
Not into baseball? No problem! Come by at 7pm for a special screening of the award winning documentary Ballplayer:Pelotero (description below). The directors will also be hosting a quick Q&A after the screening and letting everyone know about their current kickstarter campaign for the follow up documentary: http://www.kickstarter.com/projects/guagu...


http://www.gatefmobile.com
http://www.deadspin.com
http://www.peloterothemovie.com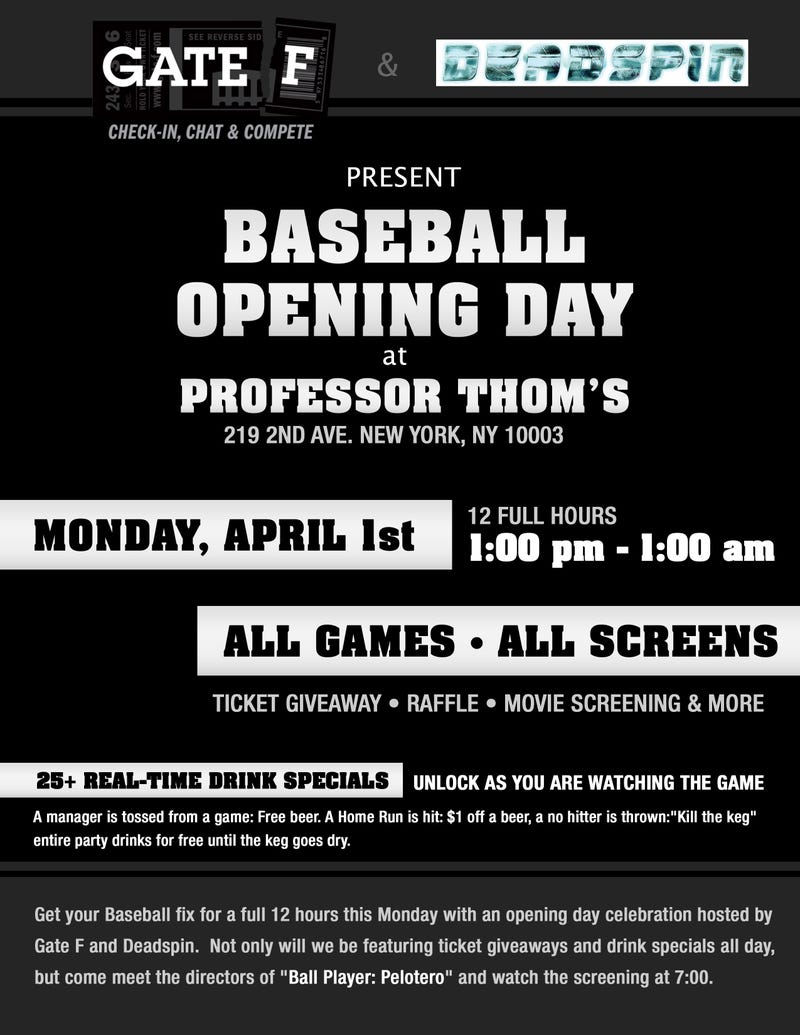 Schedule:
Red Sox Yankees 1:05pm

Marlins Nationals 1:05pm

Padres Mets 1:10pm

Cubs Pirates 1:35pm

Rockies Brewers 2:10pm

Angels Reds 4:10pm

Tigers Twins 4:10pm

Royals White Sox 4:10pm

Giants Dodgers 4:10pm

Phillies Braves 7:10pm

Mariners Athletics 10:05pm

Cardinals D-backs 10:10pm

Ballplayer: Pelotero: In the run-up to the most important day of their lives, two young Dominican baseball players confront competition and corruption to achieve their big league dreams. For16-year-old Dominican baseball players, the only real chance to escape crushing poverty comes every July 2, the day they become eligible to sign professional baseball contracts. This documentary provides an intimate portrait of two prospects as they navigate the calculating, mercenary and often corrupt elements that surround major league baseball's recruitment of the island's top talent. THE MIGUEL SANO STORYBallplayer: Pelotero followed 16-year-old prospect Miguel Sano, a once-in-a-generation talent, as he navigated intense competition and corruption to sign with the Minnesota Twins for an astounding $3.15 million. But Miguel's dreams didn't stop there, and neither did ours. For the past three years we have been filming a sequel about Miguel's road to the Bigs, and have learned that getting signed can be the easiest part for young, elite Dominican players. Sano has to grapple with the crushing pressure that comes with his preternatural talent. He faces a jarring acculturation to American life, a painful separation from his family and must navigate an increasingly complex web of professional entanglements that forces him to consider who his friends really are. We will tell, for the first time ever on film, the full and complete story of a major sports star's rise from anonymity to superstardom. But first, we need your help to raise funding on Kickstarter to continue shooting his incredible story. http://www.kickstarter.com/projects/guagu...